Commercial Cleaning Services in Cool Springs, TN
A clean and well-maintained workplace is essential for any business, and Anago Cleaning Systems of Nashville stands out as your go-to partner for commercial cleaning services in Cool Springs, TN. With our extensive expertise and commitment to excellence, Anago of Nashville offers businesses of all kinds the opportunity to elevate their image, productivity, and employee satisfaction through a cleaner and healthier overall work environment.
Tailored Solutions for Every Business
One of the key strengths of Anago Cleaning Systems of Nashville is our ability to customize cleaning plans to suit the unique needs of businesses in Cool Springs, Tennessee. Whether you run a corporate office, a retail store, or a healthcare facility, our team of skilled professionals can devise a tailored cleaning program that meets your exact requirements and schedule. From daily maintenance with our janitorial services in Cool Springs, TN, to one-time deep cleaning services, we have the flexibility to adapt and deliver stellar results.
A Healthier and Safer Workplace
Maintaining a clean and hygienic workspace is crucial for the well-being of your employees and customers alike. At Anago Cleaning Systems of Nashville, we take hygiene seriously and use eco-friendly cleaning products and practices that effectively help eliminate harmful germs and allergens without compromising on the safety of your staff and visitors. With our attention to detail and thorough cleaning methods, we can help create a healthier environment that promotes productivity and aids in reducing sick days.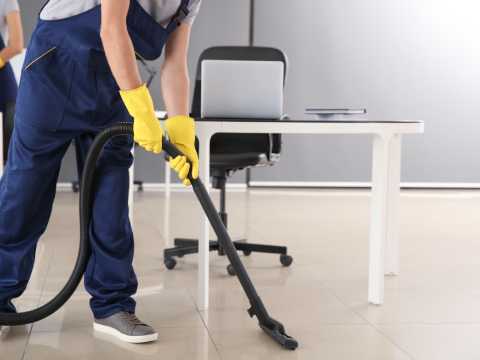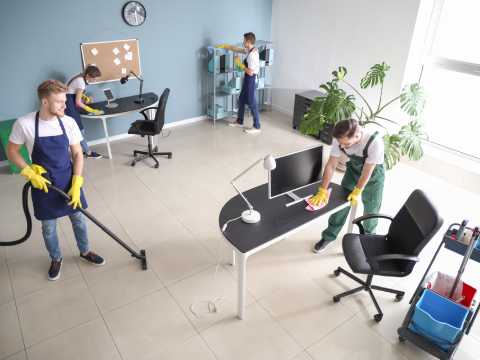 Green Cleaning Initiatives
The team at Anago of Nashville is dedicated to sustainability and has embraced green cleaning practices to minimize our environmental impact. Using eco-friendly cleaning solutions, energy-efficient equipment, and responsible waste disposal, we help ensure that our services contribute positively to the local community in Cool Springs. Partnering with us not only enhances your business's reputation but also demonstrates your commitment to corporate social responsibility.
Comprehensive Cleaning Services
At Anago Cleaning Systems of Nashville, we offer a comprehensive range of cleaning services that go beyond just dusting and vacuuming. Our skilled team is trained to tackle a wide array of cleaning tasks, including floor maintenance, window cleaning, restroom sanitization, carpet cleaning, and more. With our meticulous approach and your approval, our team leaves no corner untouched, providing you with a business that is sparkling and inviting.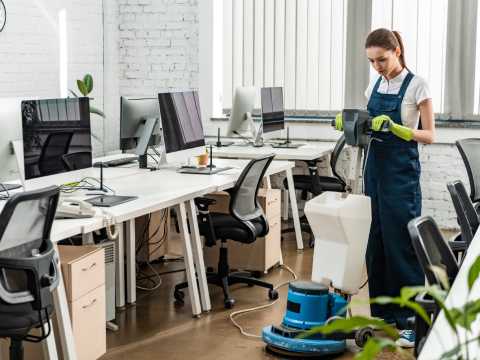 Flexible Scheduling for Minimal Disruption
Businesses in Cool Springs, Tennessee, can greatly benefit from our flexible scheduling options. Whether you need commercial cleaning services during business hours or after work hours, we can work around your preferences to ensure minimal disruption to your daily operations. This flexibility allows you to maintain a tidier workplace without having an affect on your productivity or customer experience.
Trusted and Experienced Professionals
Anago Cleaning Systems of Nashville has built a remarkable reputation in Cool Springs, Tennessee, as a reliable and trustworthy cleaning partner. Our team of skilled professionals is extensively trained, giving you greater peace of mind in knowing that your business is in capable hands. With our years of experience in the commercial cleaning industry, our team has the expertise to handle virtually any cleaning challenge that your business may encounter. Check out our reviews to learn more about all we offer our clients!
Elevate Your Business' Image
First impressions matter, and a clean and well-maintained business space leaves a lasting positive impact on customers, clients, and partners. By enlisting commercial cleaning services from Anago Cleaning Systems of Nashville, you can elevate your business' image and create a welcoming environment that instills greater confidence and trust. A pristine workplace reflects your commitment to excellence and professionalism, setting you apart from the competition.
Contact Us Today to Learn More!
Anago Cleaning Systems of Nashville offers businesses in Cool Springs, Tennessee, the opportunity to transform their workplaces into cleaner, safer, and more inviting spaces. With our customized cleaning plans, green initiatives, and a team of dedicated professionals, we take the burden of maintaining a pristine environment off your shoulders. Contact us today to schedule a consultation to learn more about our office, restaurant, and other business cleaning in Cool Springs, TN!